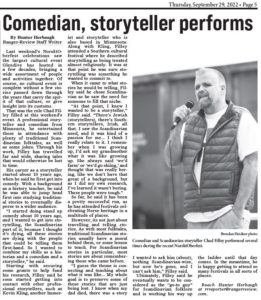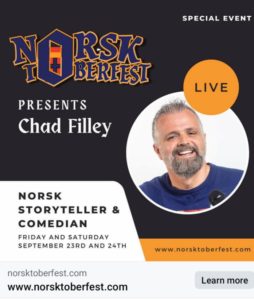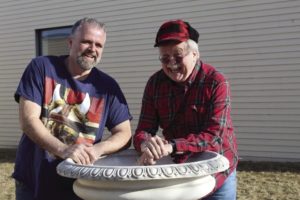 Smorgasbord of talented Scandinavian-American performers highlights April 23 showcase in Cambridge
By Rachel Kytonen
For first-class music, storytelling and comedy, you will not want to miss the Scandinavian Showcase.
The Scandinavian Showcase features a smorgasbord of talented Scandinavian-American performers and will be held at 7 p.m. Saturday, April 23, at the Hardy Performing Arts Center at Cambridge-Isanti High School. Doors will open at 6:30 p.m. and all tickets are $10. Tickets are all general admission and can be ordered online at norskstoryteller.com/scandinavian-showcase-tickets or will be available for purchase at the door.
The showcase features the comedy and music of "Ole" impersonator Bruce Danielson; author and storyteller Rose Arrowsmith; nyckelharpa player Renee Vaughan; and Scandinavian storyteller and comedian Chad Filley.
"Bruce and I have worked together. I came in at the at the tail end of the Kaleidescope Revues, and when he was done, we did a show together in Milaca and really enjoyed it," Filley said. "My side of it is I do stand-up comedy. And then I got a grant one time to work with Kevin Kling, and in addition to mentoring me in storytelling, he brought me down to the International Storytelling Festival in Tennessee. I saw Jewish storytellers, I saw Spanish storytellers, I saw Irish storytellers, all kinds of storytellers, but there was no Scandinavian storytellers. And that's a passion for me.
"With his Ole and me wanting to do the Scandinavian storytelling, we talked about this and talked about trying a show. There will be a few other people performing besides myself, Bruce, Rose and Renee," Filley said.
Filley hopes for a great turnout for the Scandinavian Showcase and mentioned First Bank and Trust has already purchased 50 tickets, and the local Sons of Norway will be attending the showcase as their April meeting.
"This is amazing, this program we will be putting on. People are reaching out," Filley said. "I got asked to do a festival in Kansas because they saw the Scandinavian Showcase online. When I asked how they heard about me they said, 'We Googled Scandinavian and your name popped up.' So we have no idea where people might be coming from for this showcase."
Danielson, who will be performing with Byron Nelson, a guitar player from Little Falls, has been performing as Ole for 35 years. Danielson has performed anywhere you can smell lutefisk, including at North America's largest Scandinavian festival, Norsk Hostfest, in Minot, North Dakota; on the Charley Pride stage; in Libby, Montana; and all over Wisconsin.
Arrowsmith, a native of Braham, grew up a perpetual wreath-girl at Midsommar celebrations and is proud to be a Scandi-nerd. Her performances include "deliciously imaginative" folktales from Sweden and Norway.
Vaughan, of the Woodbury area, has played for the king and queen of Sweden and is a current Artist Fellow with the American Scandinavian Foundation.
Filley blends humorous and dramatic tales of Scandinavian immigrants and their customs, their descendants, and even a tale or two about his grandmother, Lily Filley. Filley has performed on the stage of the Grand Ole' Opry in Nashville, Tennessee; in Las Vegas; and all over the Midwest.
"My goal is to put on high-quality entertainment and get more experience doing this and I couldn't think of anybody better to work with than Bruce, and then we have these other lovely people coming in," Filley said. "It's just going to be a tremendous show."
The showcase has been in the works since last fall.
"I had another grant where I had worked with Rose and Renee. I happen to see her on Facebook that she was doing a performance – and she has performed for the king and queen of Sweden – I messaged her and she agreed to meet and we talked and she was so supportive," Filley said. "I looked at Renee's resume and was like, 'Wow, she has performed everywhere.'"
Danielson taught for 11 years at the New Prague School District prior to joining Cambridge-Isanti Schools, and Vaughan is married to a man who performed in one of Danielson's plays while he was in New Prague.
"It's a small world," Danielson said.
Danielson will be the emcee for the evening and mentioned he and Nelson have collaborated together on some fun songs.
"You know the song, 'I've Been Everywhere,' where they list off all the towns, where I've regularly had that in my act and I've had all the verses memorized," Danielson said. "Well, nowadays, no one's been anywhere, so now I'm doing the latest version, 'I Ain't Been Nowhere.' So Byron and I are doing that and we'll be doing a song between each of the performers, so we have a couple of fun songs planned. Byron will be performing as my cousin, so that will be fun."
Filley has done extensive research for his Scandinavian storytelling.
"I've received several grants and one of them was to allow me to go and research, so I've gone to archives all over the state and looked for stories," Filley said. "So a lot of what I'll be telling people – granted you have to fill in some details that are not in the newspaper – but this is real stuff I'll be talking about. I want to bring Twin Cities quality material to outstate people, and that's what they're going to get. They're not going to have to travel; this is going to be a first-class show in which people locally will be able to see stuff that would fit in the Orpheum Theatre."
Danielson said for those people who never experienced the Swedish Festival that was held for many years in Cambridge many years ago, this is a chance for them to get more familiar with the Scandinavian heritage.
"Those who missed the Swedish Festival, this is a great chance to connect with the Scandinavian background again," Danielson said.
Filley said the showcase will entertain for all ages and will be fun, but also educational.
"This will all be family-friendly; children are welcome," Filley said. "When I first start out advertising myself, I say I'm a history teacher because I teach world history, and then I say I'm a comedian and storyteller. I think it's really good for them to see what it's been like in the past. People don't realize how tough these pioneers were. But these stories will be fun, entertaining, while also a little educational."
Filley said he's proud to be offering a great show with his colleagues in Cambridge.
"I think for $10 this is an amazing bargain and it's going to be awesome, world-class entertainment, and Bruce," Filley jokingly said.